5 Hot Dice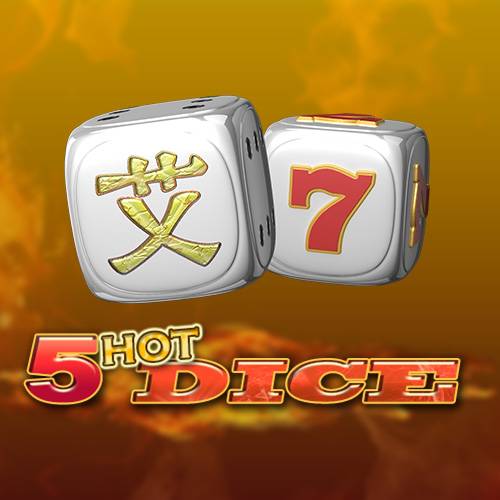 GAME TYPE
Dice Slots
PROVIDER
egt
5 Hot Dice Slot Review
Play a hot slot game with the hottest brightly-coloured dice! Are you ready? With a strong classic casino theme, 5 Hot Dice is a well-designed and appealing slot game with big jackpots up for grabs, with a maximum payout of 50,000 coins. You're sure to love playing this imaginative and appealing game! There are few things more satisfying than seeing a set of brightly-coloured dice bursting into flame once you've lined them up and scooped a top prize.
Dice are among the oldest and most basic items used for gambling games. Based on evidence found by historians, it is thought that Ancient China was the first civilisation to enjoy gambling as an art form. Ancient Chinese gamblers used specialised tiles as part of lottery and strategy games, which may have eventually evolved into dice over the years. The Mayans, Romans, and ancient Greeks were all equally fond of gambling, with all sorts of various different games originating from their cultures. The oldest known dice were originally fashioned from the bones of tiny animals, and are estimated to be around 5000 years old. Thankfully, these days manufacturers tend to stick to wood or plastic.
Very few people know that the dots on a standard-issue set of dice actually have a specific name – they're called pips. The most recognisable dice has six sides, though it's not uncommon to see dice with up to 20 different sides! Interestingly, a standardised six-sided dice is specially crafted so that opposing sides will always add up to 7 – 6 is opposite from 1, 5 is opposite to 2, and 3 is opposite to 4. Why? Because 7 is the luckiest number of all!
How To Play 5 Hot Dice Slot
Betfirst's useful demo mode is on hand for any players who want to try out 5 Hot Dice for themselves before playing for real. No deposit required – you can simply play the game for fun. However, it's obviously way more fun to play for real. But if you want to sharpen your technique, Betfirst's demo mode is the thing for you!
The game also features an interesting additional game known as the gambling round – all players have to do to unlock this is press the "gamble" button when it shows up. This will take players to a separate area with a minigame featuring several playing cards. All players need to do to win is guess whether the next card that appears will be red or black – simple, right? Keep in mind, though, that this game is sudden death – a wrong guess will see all the player's winnings vanish instantly.
Not only that, but there is an additional game with EGT mystery jackpots available. At a random point during the game, this game will trigger and give players a four-level mystery jackpot game, each level themed on one of the four card suits. The game is simple – all that players have to do to win is turn over three of the same type of card, and they'll win a jackpot prize!
5 Hot Dice Mobile Experience
While 5 Hot Dice is available on Betfirst's website, the game is also available to play on a mobile device such as a tablet or a phone. The game is perfectly replicated to play the same as it would on the main website. Having the ability to play the game on the go is fantastic and so convenient – what could be better? Being able to play 5 Hot Dice wherever you are is great!
5 Hot Dice Free Spins
One of the best things about a slot game such as 5 Hot Dice is all of the great bonuses and prizes up for grabs. When you play 5 Hot Dice, you'll be in for the chance to win a handful of free spins. Double your chance to win with an extra go! When players use a free spin and end up winning, it feels even more satisfying than usual. Bonus rounds and multipliers are also up for grabs, offering players the chance to stack their prizes and walk away with an even bigger win than usual. It's unsurprising that so many people have enjoyed playing 5 Hot Dice – take a shot and see for yourself how enjoyable this great game is.