Take it or Not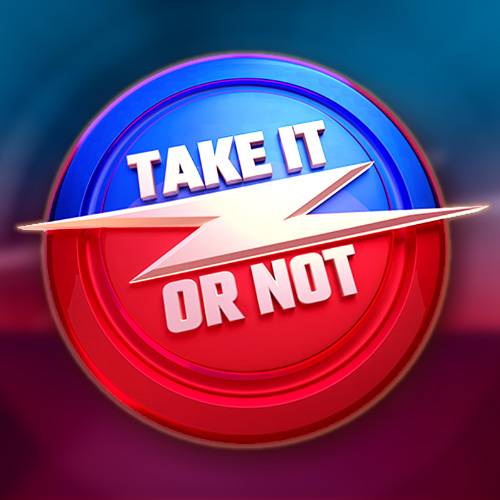 SPELTYPE
Dice Games
PROVIDER
gaming1
Take It Or Not Review
Take It Or Not van Gaming1 heeft je heel wat te bieden! Geniet van dit fantastische dice spel met een sensationeel bonusspel en ontdek wat jij kan winnen.
Hoe speel je Take It Or Not?
Take It Or Not is een dice spel, wat betekent dat jij zelf je dobbelstenen neerzet waar je wilt! Zo kan jij zelf combinaties vormen waar mogelijk, en zelfs bonusspellen kan ontsluiten.
Er is een autoplay optie aanwezig, maar die is niet so eenvoudig als op andere spellen. Als je op start klikt begint het spel, en als je blijft op start klikken zet het spel de dobbelstenen neer waar deze denkt dat ze het beste zullen passen. Hierdoor moet je je geen zorgen maken over je strategie, maar kan je mogelijk combinaties zien ontstaan die je niet zelf zou vormen.
Beginnen spelen is eenvoudig: Selecteer jouw inzet met de + en – knoppen in het vakje "stake" (wat inzet betekent) en druk daarna op start om Take It Or Not te spelen.
Take It Or Not Regels
De regels van Take It Or Not zijn dezelfde als die bij andere dice spellen.
Je selecteert je inzet en drukt op start. Take It Or Not rolt een torentje van drie dobbelstenen en je zet deze neer in een van de vier vakjes van 3x3. Automatisch wordt het eerste torentje helemaal links geplaatst, het tweede torentje in hetzelfde vak in het midden, en het derde torentje valt in de derde kolom. Je vult de vakjes dus op van links naar rechts.
Je kan combinaties vormen op de vijf winstlijnen van Take It Or Not – horizontaal en diagonaal. Enkel drie symbolen op een winstlijn tellen, er zijn geen winsten voor deelse combinaties.
Nadat alle vier vakjes vol dobbelstenen zitten worden je punten opgeteld volgens de puntentabel, daar sommige dobbelstenen meer waard zijn dan andere. Bijvoorbeeld, drie dobbelstenen met zes ogen zijn zestig punten waard, maar dobbelstenen met een enkel oog zijn maar twintig punten waard in een combinatie. Je moet ook minstens honderd punten halen om te winnen.
Eens de score berekend is, wordt deze met de prijzentabel vergeleken. Dit klinkt als een heel proces maar Take It Or Not doet dit allemaal voor jou in een oogwenk!
Er zijn ook andere regels die de score bepalen in Take It Or Not – drie winnende velden leveren je een vermenigvuldiger van 1,5 op je totale score, vier winnende velden verdubbelen je score. Een veld gevuld met dezelfde dobbelstenen leveren je, bovenop de punten van alle vijf de winstlijnen, ook nog eens een extra 200 punten op! Je kan dus best op wat punten rekenen hier.
Bonussymbolen
Er is maar een enkel bonussymbool aanwezig in Take It Or Not, een rood kalligrafisch teken op een witte achtergrond. Hiermee kan je het bonusspel ontsluiten!
Zodra je drie van deze symbolen op een rij hebt staan wordt je meegenomen naar het bonusspel. Hier flitst een selector over een aantal driehoekige prijzen. Je kan tot vier keer een prijs weigeren, maar de laatste wordt automatisch aanvaard. Natuurlijk kan je ook de eerste aangeboden prijs aanvaarden, bijvoorbeeld. Let ook op dat als je een prijs weigert deze weggehaald wordt, dus als je een laag aanbod verwijdert kan je je kansen zo verhogen op de hogere prijzen.
Je kan punten, cash of mystery games winnen. De keuze is aan jou – Take It Or Not!
Take It Or Not Mobiele Ervaring
Even de wachtzaal beu? Haal je smartphone of tablet boven en speel een rondje Take It Or Not. Geen downloads of installaties nodig, je kan gewoon spelen vanop onze website.
Take It Or Not Free Play
Dice games kunnen soms wat intimiderend zijn. Geen nood, je kan gratis onze demoversie uitproberen voor je voor het echte werk gaat! Geniet van Take It Or Not zonder aan je speelgeld te komen en test je strategie uit voor je je echt geld inzet.
Conclusie
Take It Or Not heeft heel wat te bieden voor fans van het dice spel genre. Het bonus spel is erg leuk en grafisch is dit een heel mooi en duidelijk spel. Je kan genieten van het beste van Gaming1 in deze dice game!
Geniet ook van onze andere Gaming1 spellen zoals Summer Dice 2, Fakir Dice Slot en Black & White. Welke je ook kiest, je zal zeker genieten van hun dice games!