Supreme Dice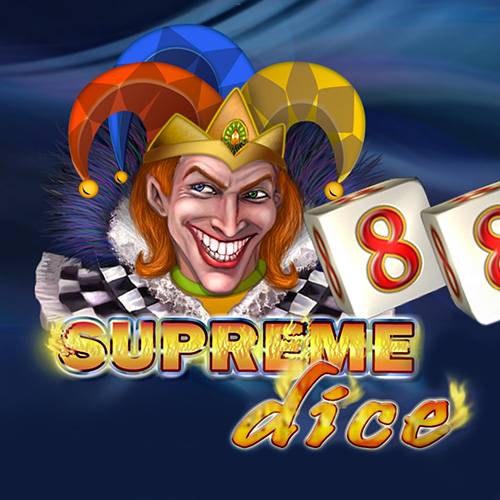 GAME TYPE
Dice Slots
PROVIDER
egt
Supreme Dice Slot Review
Are you a dice master? Prove it here. Roll all sorts of glossy, brightly-coloured dice and try to get the best and biggest prize – come and play the Supreme Dice Slot! The game features a jester with a wide-mouthed and ever so slightly creepy smile. Try not to let this put you off as you spin the reels.
The role of a jester is thought to have originated in the Middle Ages. Well known for their distinctive and outlandish costumes, they were employed by European monarchs as entertainers. Disturbingly, many jesters were chosen either because they had some form of mental disability or physical deformity. It was very common for dwarfs to be jesters, as medieval people thought of them as a merry and amusing sort of people. Jesters would often perform all sorts of acts, from singing and dancing, to comedy and ventriloquism, to juggling and tumbling tricks. In a sense, the modern role of a stand up comic basically originated from the role of a jester.
Interestingly, however, jesters had one power no one else in medieval times was allowed; they were permitted to openly mock the king and queen. This would have been an extremely serious matter had anyone else done so, but because the jesters were perceived as harmless fools, it was allowed for them to disrespect the monarch as long as it was all in good fun. However, the job wasn't all fun and games. They also had the unenviable task of delivering bad news to the king – members of the court would use the jester to impart their messages, relying on their comedic skills to soften the impact of any negative messages. For instance, when the French King Philippe VI's fleet was defeated by the English in 1340, no one dared to tell the king except his jester, who managed to turn the whole thing into a joke!
How To Play Supreme Dice Slot
To say that Supreme Dice has an unusual layout would be an understatement. Despite only having 3 reels the game has a stunning 27 possible paylines. Six dice can appear on the reels, each with their own colour. In addition, there are lots of multiplier dice in various different colours – get nine of a kind of a certain set of dice and be rewarded with a multiplier of 2x! Players can also adjust their bet to be sure of the amount they want to win.
If you'd rather not jump in immediately and feel slightly more cautious, then don't worry – we've got you covered. betFIRST offers a handy demo mode which means that you can play the game without having to make a deposit or even sign up! Just open up the game and play for fun. However, the most fun of all can be had from playing Supreme Dice for real – when there are so many excellent prizes to be had, why on earth would you not? There's even an additional progressive jackpot which will keep stacking up as you play – will you be the one to claim it?
Supreme Dice Slot Mobile Experience
Supreme Dice can be found on the main betFIRST website, as with a range of other great online casino games. However, that's not the only place that it can be experienced; players can enjoy playing the game on mobile phone and tablet devices. All that's needed is a network connection and they'll be able to play on the go! Once you sign up with betFIRST, you'll be good to go. The ability to play no matter where you are is undoubtedly fantastic and something beloved by all of our players. With such convenience, betFIRST is established as one of the best places to enjoy playing exciting online casino games anywhere.
Supreme Dice Slot Bonus Games
Supreme Dice has all sorts of goodies lurking on the reels just waiting to bring you lucrative rewards! Two gurning jesters – one male and one female – can appear if three Joker symbols are lined up on the reels to gift you with a big prize. The luckiest players can unlock the Gamble minigame, a bonus round in which players must guess the colour of the next card (red or black?) to give a flavour of playing in a real casino.