Rapid Rush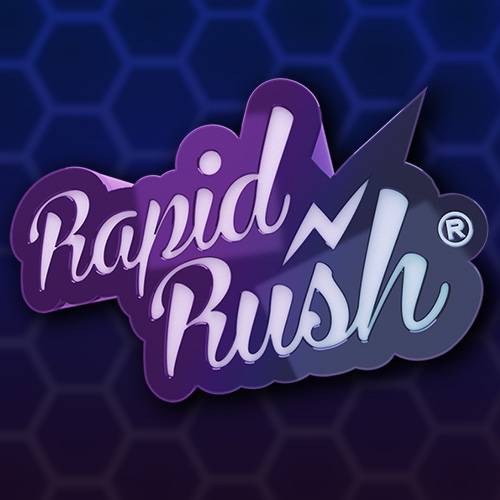 GAME TYPE
Dice Games
PROVIDER
gaming1
Rapid Rush Review
The only online dice game with a jackpot of €25,000! You guessed it – it's Rapid Rush! Think you're the one who's got what it takes to win the ultimate goal? Test your luck – maybe it'll be you!
How To Play Rapid Rush
The game features four separate grids, each one containing nine squares. The dice generator will present the player with a column of three dice, which they can place into one of the grids. Doing this will enable them to create horizontal or diagonal lines of three identical dice, which will earn the player points. Each individual dice is worth a different amount, with special symbols being worth more than the ordinary single-coloured dice. But players need to earn a total of 100 points from their lined-up dice to win a payout. This is no game of chance – to win here, players will need a clear strategy and an eye for potential high-value combinations. The placement of each row of dice can potentially ruin or save a game – so careful thinking is required! Landing three separate winning lines will triple the total score, and filling a grid with nine of the same kind of dice will earn the player a 200-point bonus!
There's no reason to get stuck into Rapid Rush straight away – in fact, Betfirst offers a fantastic demo mode to allow you to get to know the game before you play for real. No need to sign up or make a cash deposit – you can play for free. This mode is available for anyone to play, whether they're a beginner or an expert gamer, and it's an immensely popular option. However, the high-stakes excitement and the possibility of landing a top-drawer prize means that playing the real game simply can't be matched for a genuinely exciting experience.
Rapid Rush Mobile Experience
Rapid Rush isn't just available to play on Betfirst's main casino website; players also have the option to enjoy the game on their phone or a tablet device! Thanks to Betfirst's useful app, Rapid Rush and all of the other fantastic online casino games play identically to the way they would on a computer. Having the ability to play all sorts of excellent online casino games like Rapid Rush from wherever you happen to be is such a supremely convenient experience. Many players are thrilled at being able to play great Betfirst games on the go, and it's not very hard to see why. Have a look at Betfirst's mobile casino app and see for yourself how great playing on the go can be.
Rapid Rush Bonus
So, how do you reach that coveted €25,000 jackpot? Well, one way to do so is to line up three bonus symbols and unlock the bonus minigame! The Rapid Rush interface will fade away and the Bonus Wheel will appear. Each point on the wheel is worth a specific amount of free points, from 100 points to 1000. One of the points on the wheel, however, is the legendary jackpot! Spin the bonus wheel and cross your fingers… will you be the one to get it?
The other route to the jackpot is to achieve the unthinkable – a score of 500 points or more! If this mighty total can be reached, ten boxes will appear, one of which contains the jackpot prize. Summon your courage and choose a box!