Jumbo Stampede Dice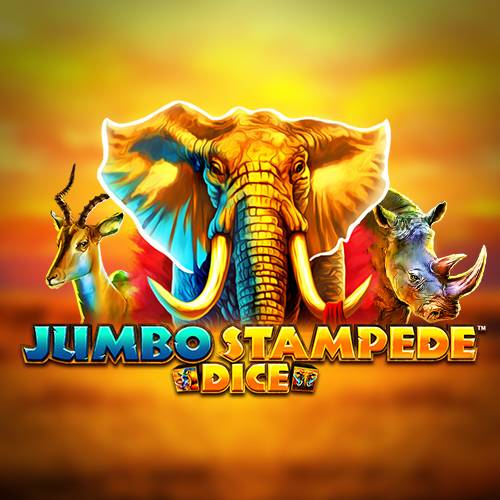 GAME TYPE
Dice Slots
PROVIDER
isoftbet
Jumbo Stampede Dice Slot Review
Watch out for the stampede – the animals are coming your way! Start your journey across the plains of Africa with this awesome six-reel slot game from iSoftBet - Jumbo Stampede Dice slot! With loads of paylines and awesome, vibrant graphics, you'll practically feel the African sunshine on the back of your neck, and it's a great way to pass the time if you're staying in.
For all the information you need to know about Jumbo Stampede Dice slot, check out the complete review from betFIRST. We'll cover how to play the game (whether you're a beginner or an experienced slot player), playing on the go via mobile, plus what you can expect from the demo version of the game.
Without further ado, let's get into the Jumbo Stampede Dice slot game review!
How to Play Jumbo Stampede Dice Slot
iSoftBet's Jumbo Stampede Dice slot game is the companion to their standard Jumbo Stampede slot game, and so there are lots of similarities between the two.
You don't need to be an experienced slot game player to get stuck into Jumbo Stampede Dice slot – the process is quick and easy, so you'll be spinning the reels in no time. Your first move is to select the size of your coin – you can bet a maximum of 1 and a minimum of 0.01 for each coin, allowing you to be very flexible with your bets and keep control of your budget.
Once you've chosen your coin size, you can start to spin the reels, either manually or using the Autoplay feature, which gives you total agency over your wagers and how much you're prepared to spend. That's really all there is to it, so make your deposit, choose your coin size and spin those reels – the stampede may just bring you some joy!
Jumbo Stampede Dice Slot Features
As you can expect from every game produced by iSoftBet, Jumbo Stampede Dice slot has plenty of features that will keep you coming back for more – let's take a look at the main ones here.
For starters, the setting and graphics are slick and very easy on the eye, and the colours will really conjure the feeling of being amongst the gazelle of the Serengeti – the symbols include gazelles, elephants and rhinos.
All good slot games have bonus symbols and features to spice up your gameplay, and Jumbo Stampede Dice is no different – with Wilds, Scatter symbols and of course the cool six-sided dice that will pop up every now and then and give you more chances of winning, you'll never get bored of Jumbo Stampede Dice slot.
Straightforward and intuitive, there's not much to dislike about Jumbo Stampede Dice, although some may find they just want to keep playing and playing! Mind you, it's also a great way to pass the time while you're on the move, or if you have a few minutes to kill between Skype meetings – read on for more on this.
Jumbo Stampede Dice Slot Mobile Experience
Want to play Jumbo Stampede Dice slot on mobile? Well, thanks to both iSoftBet and betFIRST, you can! All our best slot games are fully mobile responsive, which means that you can access your favourites from your phone or tablet, wherever you are.
To play the epic Jumbo Stampede Dice slot game on your mobile device, all you need to do is access betFIRST on mobile or tablet to play your favourite game. You will need an internet connection and enough battery life, but that's really all there is to it. A few taps later and you'll be able to play Jumbo Stampede Dice slot game on mobile, wherever you are!
Play on the move, or when you're curled up on the couch – you'll soon find spinning those reels and winning those coins can be a great way to pass the time.
Jumbo Stampede Dice Slot Free Play
They say that nothing comes free in this world, but with betFIRST, we prefer to think differently. That's why every one of our online slot games is available to play in free mode, giving you the chance to essentially 'try before you buy'.
This means that you can get a feel for every slot game, spin the reels and experience the different bonus symbols – and potentially a few wins – without spending a penny. Once you've tried the demo version and enjoyed it, you can kick things up a notch and go for the real deal.
Be warned – once you start scoring virtual wins on demo mode, you'll find it hard to resist trying it for real – betFIRST 's Jumbo Stampede Dice slot game is simply too good to miss out on.
Play Jumbo Stampede Dice slot, as well as hundreds of other awesome slot games such as Lucky Lady Dice, Starburst Slot and Cosmix Dance – find the one that takes your fancy, and enjoy hours of fun with the best slot games online from betFIRST.